Property
Joutel Project
Visible gold Mines has completed in 2011 a 6016-metre ten hole drilling program at the Joutel Extension Property that will test a mineralized northwest-southeast structural pattern that appears to strike directly southeast of Agnico Eagle Mines Limited past-producing Telbel, Eagle and Eagle West mines.
"
With a fresh geological approach, we're very confident we can bring this former mining camp back to life,
" explained Martin Dallaire, Visible Gold Mines' President and CEO. "
Robert Sansfacon, our senior geologist, is overseeing this project and has carefully planned an initial 14-hole drill program. He's looking at a structural pattern to the mineralization at Joutel as opposed to the stratigraphic model that was used before. With five former mines (three gold and two copper) in the immediate vicinity of the Extension Property, we believe our chances of making a discovery are significant. As the saying goes, the best place to find a new mine is near an old mine.
"
Visible Gold Mines entered into an option agreement on Joutel with Agnico-Eagle in March of this year (see March 31 news release), allowing Visible Gold Mines to acquire a 50% interest in Joutel by incurring $5 million in exploration expenditures over a five-year period. Visible Gold Mines will be the operator of the project until it has earned its 50% interest. will be the operator of the project until it has earned its 50% interest.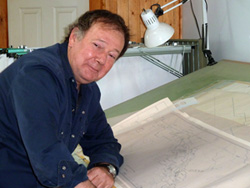 VGD Senior Geologist Robert Sansfacon reviews maps for the Joutel Project which stretches 25 kilometres west to east.
The former Eagle, Eagle West and Telbel mines at Joutel produced a combined 1.1 million ounces of gold at a grade of 6.0 grams per tonne (g/t). Approximately 300,000 ounces of silver were also recovered at a grade of 1.8 g/t.
The Joutel sector became an important and very active area play in the early 1960's after the discovery of a massive sulphide (Cu-Zn) deposit. Between 1962 and 1964, Equity Exploration was exploring for base metals when it made the "Eagle" gold discovery. Eagle Gold Mines, formerly Equity Exploration, developed the site until 1970. In 1972, Agnico Mines merged with Eagle Mines Ltd., leading to the creation of the Joutel underground mining complex.
The first gold at Joutel was poured from the "Eagle" zone in 1974 and additional zones were discovered later. At maximum production, Joutel produced 360,000 to 410,000 tonnes of ore each year at a rate of 1,090 tonnes per day. In 1993, when mining operations ceased, nearly seven million tonnes of ore had been extracted from the various zones. Dewatering activities continued until 1995. Joutel was an important player in the economic development of the region, employing 300 of the 1200 residents of the area at the time.